He got home last Saturday, and we've been catching up all week. Taking our son to the park and going swimming. Thankfully Zayn did wonderfully when Daddy got home. Only took him a few hours to warm up to him. Then he was giving him hug after hug, and kiss after kiss, for the rest of the day. He was afraid to go to sleep that night. He kept saying Daddy over and over and crying. We figured he was scared that Daddy wouldn't be there when he woke up in the morning. But he was, and everything's fine now! They are really enjoying spending time with each other! And I'm really enjoying getting a break every now and them, and someone else to be responsible for taking out the trash. lol
We had to buy a new camera. Our old one had been on the verge of breakdown for a while now, but Zayn sent it over the edge! He got a hold of it and when I tried to get it away from him he threw it and well that was all that camera could take. We got this one:
It's awesome!! 12.1 mega pixels and not really all that expensive. I've been taking pictures like crazy. 300 in a about 3 days. I'm in love!!
I made a new freebie to share. Since I missed putting it up on Friday I'm just gonna post it now. I'll probably be a little behind on Friday Freebies for the next few weeks. Til we all get re-acclimated to him being home.
Curly Swirlies Blog Freebie Kit includes:
3 Papers
3 Diamond Brads
3 pieces of Ric Rac
3 Frames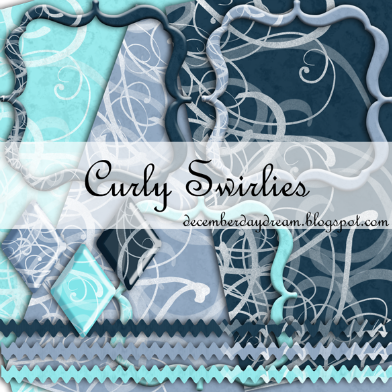 Enjoy! Don't forget to leave a comment if you like my designs!