Every since my husband got home from deployment things have been crazy. After catching up on all the appt's I need to have but didn't have time to get to while he was gone, I started working for ChaCha. It's a lot of fun, and an easy way to make some extra cash for the holidays.
My son has been hospitalized (just overnight) twice in the past 2 months. The first time he had croup, larengitis. The second time he was having severe breathing problems, and they said it was caused by bronchitis. Although they say if he has one more episode of breathing problems, then they will diagnose him with asthma. Right now he's on an inhaler - has to take it every 4 hours. It's exhausting! But so far he's doing good with it. I never expected my almost 2 year old to sit down and help me hold the inhaler chamber thingy over his mouth and nose, while I pumped albuterol in it. But he does so good, even at night, he just lays there and lets it happen. Good kid!
Oh and my husband got his assignment for our next base. We should have orders in the next few weeks. We'll be going to Andersen AFB in Guam. That's right, we'll be living on a tropical island that is 40-something miles long and 10'ish miles wide. Surrounded by ocean on all 4 sides. Actually, I'm looking forward to it. No winter weather, and living next to people that I can actually communicate with. I wish I would have learned to speak Italian while we were here, but I just didn't have time. I know lame excuse! So after the beginning of the new year, we will be heading back to the states to visit family for a couple weeks and then on to Guam.
I've been fiddling in photoshop to. I've made about 4 imcomplete kits in the past couple weeks. I went through a phase where I didn't open photoshop for about a month. But I've been spending so much time on it now, that I'm making up for it!
Of course, with Halloween coming up, I just had to make a Halloween kit. I had so much fun making this! Here's a layout I made with my 'Spooky Scraps' kit.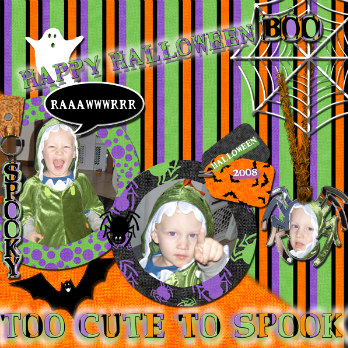 The kit includes 8 papers and over 40 embellishments. It's been split into 2 downloads. One for embellishments and one for papers.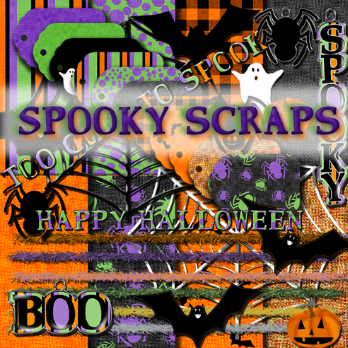 And don't forget to leave me some love if you download it!